1trust Service
Heart of Customer Experience beats in Customer Service
What sort of experience do you provide to your customers?
Every time when customers interact with your organization they gather an experience, regardless of what you do. There is not a question if they're experiencing but what they're experiencing. And whether you understand that experience.
package of selected SAP C/4 Hana & communication products:
SAP Service Cloud
gives better customer service when your customer really need your help
SAP Contact Center
gives the same customer experience across all communication channels
SAP Conversational AI
automates customer service in an efficient way and reduces costs
Customers want experiences that match their expectations.
Customers want companies to follow their communication channels preferences, offer quick and personalised service and build relationships based on trust. The true CX happens in customer service.
CX is a key for companies want to succeed. That is why
it is so important for every company to offer, apart from good products and services, also outstanding customer service
and excellent product experience. It is also necessary to manage those experiences and deliver better service than competitors.
In the experience economy, what makes you different from the competitors it's not just the quality of your offer -it's how you make people feel that matters. To do this you should not only understand customers emotions but watch them carefully and be able to understand the reason and react accordingly. 
are willing to ditch a brand if the service is poor or slow
SAP C/4 Hana portfolio - five cloud solutions integrated
SAP C/4 Hana
Experience Management Solution
Successful experience management requires a new way of doing things. For decades, organizations have relied on operational data (O-data) – hard data that tells you what's going on, such as profit and loss, win rates, and cart abandonment – to inform their decisions. Today, operational data is not enough. We also need to know why things are happening. Why did a customer abandon that cart? What's causing the high rate of unsubscribing e-mails? This is experience data (X-data), and when it's coupled with operational data you have the most powerful weapon in a marketer's arsenal: an understanding of what your customers are experiencing and how their reaction affects your business.
Gaining that understanding requires the right kind of software. SAP C/4 Hana, the customer experience suite from SAP gives you the power to connect X-data with O-data, helping you move from customer relationship management to experience management.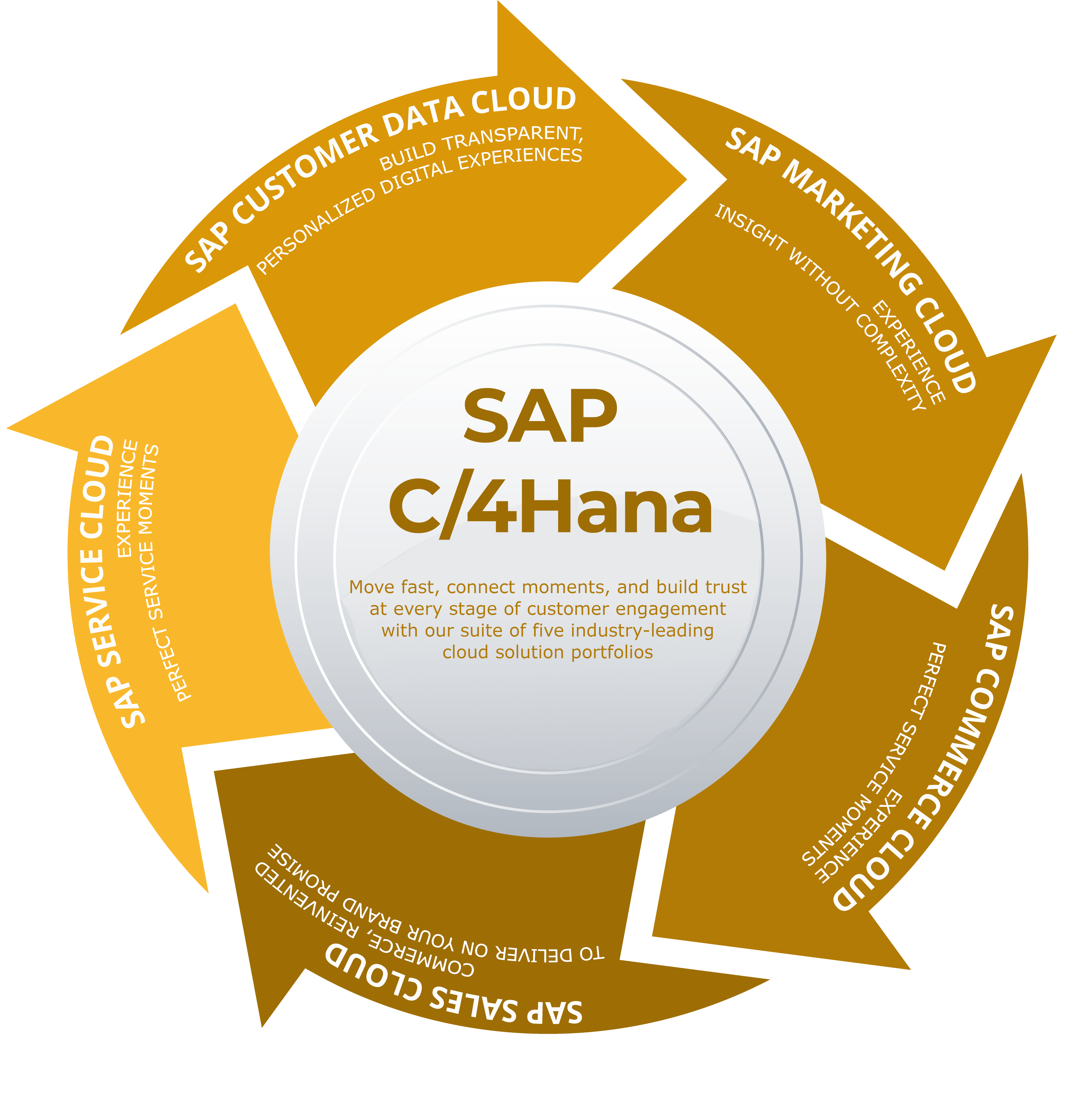 If you deliver a great customer experience it is a chance your business will do well. Watermark Consulting's influential yearly report "The Customer Experience ROI Study" suggests – leaders in CX generate a stock performance up to three times higher than those who are defined as CX laggard. Ignoring this factor is not an option. SAP C/4 Hana gives you access to game-changing tools that not only allow you to monitor CX but also to improve it
1trust Service package by Comtrust is perfect to start with SAP C/4 Hana and according to growing needs expand with other SAP C/4HANA products – Field Service, Sales, Commerce, Marketing, Data. 1trust Service is the best first step to CX strategy especially for companies having intensive contacts with customers, partners or reps.
SAP Service Cloud, SAP Conversational AI and SAP Contact Center can be offered as integrated package or as stand-alone solutions. Each solution can be integrated with any other SAP and non-SAP products (including telco infrastructure). Chatbots, Social Media and Voice Channels are included.
1trust Service package is dedicated to the companies that want to efficiently manage all service processes and interactions (with customers, partners or reps). You can take advantage of the whole integrated package (SAP Service Cloud, SAP Conversational AI and SAP Contact Center) or implement any of the components as a stand-alone solution. The package can be integrated with other SAP and non-SAP systems.
Chatbots, Social Media and Voice Channels are part of the package. Additionally it can offer AI driven communication based on voice-enabled bots. According to growing needs the package can expand with the other SAP C/4HANA products – Field Service, Sales, Commerce, Marketing.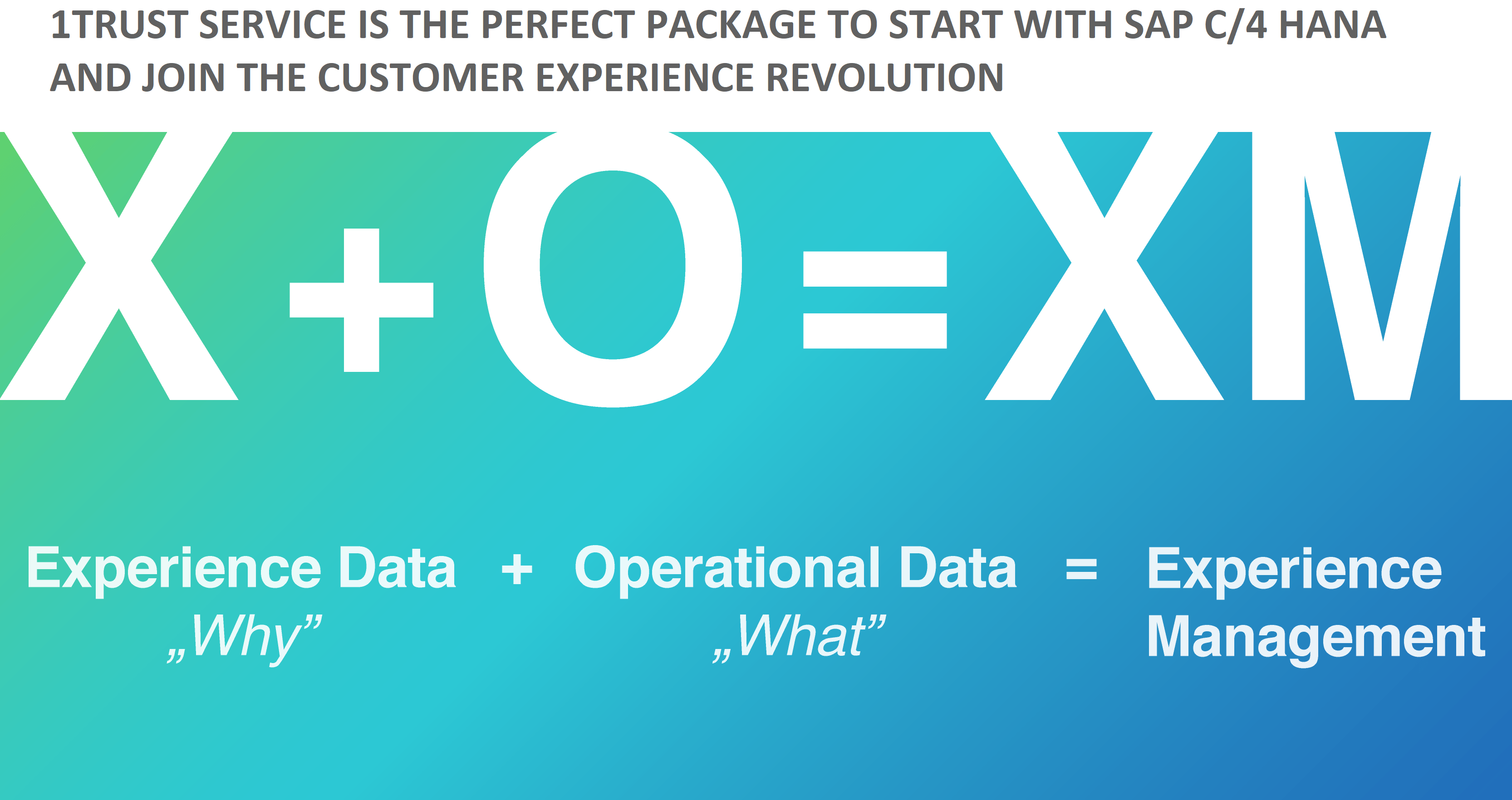 Contact us:
+48 221 221 992
1trust Service package by Comtrust smoothly integrates three SAP solutions
SAP Service Cloud - Experience perfect service moments
Customer service is the core of the customer experience. Every customer service moment is a moment of truth that puts your organisation to test. How quickly can you respond? How easy can you make it? How long will it take to get the problem solved?
SAP Service Cloud helps you to deliver better customer experience in the moments when it matters most – enabling effortless self-service, supporting omnichannel customer engagement, providing on-demand field service and bridging the gap between the front line and your operational systems. With embedded artificial intelligence (AI) you can automate and accelerate your service processes.
Thanks to the built-artificial intelligence (AI) you can automate and speed up service processes. Easy-to-build chatbots deal with routine and repetitive tasks giving to service and support teams time to handle complex queries and issues.
Empower your service teams and connect with customers
• Create a true omnichannel support and experience for traditional and digital channels
• Operate 24/7 service – provide round-of-the clock customer service with quick, accurate and automatic answers via chatbots
• Motivate your team by empowering your agents with knowledge and tools
• Harmonize your business processes with back-office systems and processes
• Manage costs and risk – create a homogeneous environment for communication, contacts, ticket management and eliminate the costly and risky    integration of different vendor platforms.
SAP Contact Center - Improve Efficiency and Customer Service
Customer service plays an important role in managing customer satisfaction and customer experience. Customers need to feel valued and supported across all channels. They want to reach the right people to solve their problems promptly.
SAP Contact Center improves communications and ensures consistent cost-effective omnichannel service. It improves customer service across all channels – phone, e-mail, chat, bots, social media, SMS – even when volume is high and resources are distributed.
Provide the best service ever – you can seamlessly queue, prioritize and route customer contacts. You can optimize contact center operations, provide fast access to problem solvers and embed the multichannel communications to SAP Service Cloud.
Provide consistent service – manage your contacts efficiently, ensure consistent and personalized experiences. IVR self-service allows customers to routinely perform tasks, which results in reduced contact and increased satisfaction.
Optimize operations – create a virtual contact center in geographically dispersed organisations where agents work by using unified applications environment.
Ensure the highest quality service and gain a competitive advantage – better control of inbound and outbound contacts across all channels. Constantly monitor your work and implement measures to increase productivity.
SAP Conversational AI - The no. 1 solution to revolutionize enterprise Customer Service
Customer service can't keep up with the huge increase in volume of customer demands. AI and deep learning are the best solutions to provide higher customer satisfaction and cost reduction simultaneously. Soon, robots will handle over 85% of company clients interactions. Why? Because bots are efficient, 24/7, multichannel and relationship based.
SAP Conversational AI provides customer support solution based on AI to revolutionize your customers' journeys.
SAP Conversational AI is a collaborative software that enables people to create powerful chatbots instantly – powered by artificial intelligence. The natural language processing API gathers entity recognition, text classification, sentiment analysis, and content management to efficiently respond to user intents. SAP Conversational AI helps to automate customer service and improve the productivity of human agents along with reducing costs and increasing customer satisfaction.
Connect chatbots to websites or popular messaging channels for a seamless experience and always reach your target audience – while leveraging the entire SAP portfolio through easy integrations with existing products to keep data in the same ecosystem.
Do you need AI Voicebots? Comtrust developed a cyberagent, by enhancing SAP Conversational AI functionality from a chatbot to a voicebot. From now on, SAP intelligent bot is also able to talk to customers by phone, like a human.
Comtrust is a consulting company specializing in

Customer Experience

systems
. We are a
team of experienced advisors, consultants and specialists
. Comtrust focuses on solutions dedicated to
sales and customer service, contact center and CRM, as well as Artificial Intelligence (AI, RPA) and BI.
Comtrust gained knowledge and experience from many successful projects (international and local)- in corporations, SME and public sector. All our implementations are referenced.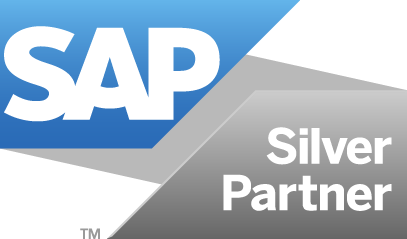 SAP Silver Partner
Comtrust sells licenses, implements systems and develops own addons

SAP Parnter Center of Expertise
Comtrust provides SAP Standard and Enterprise Support services.
Nearly 20 years of experience in SAP solutions
We share our best practices with our customers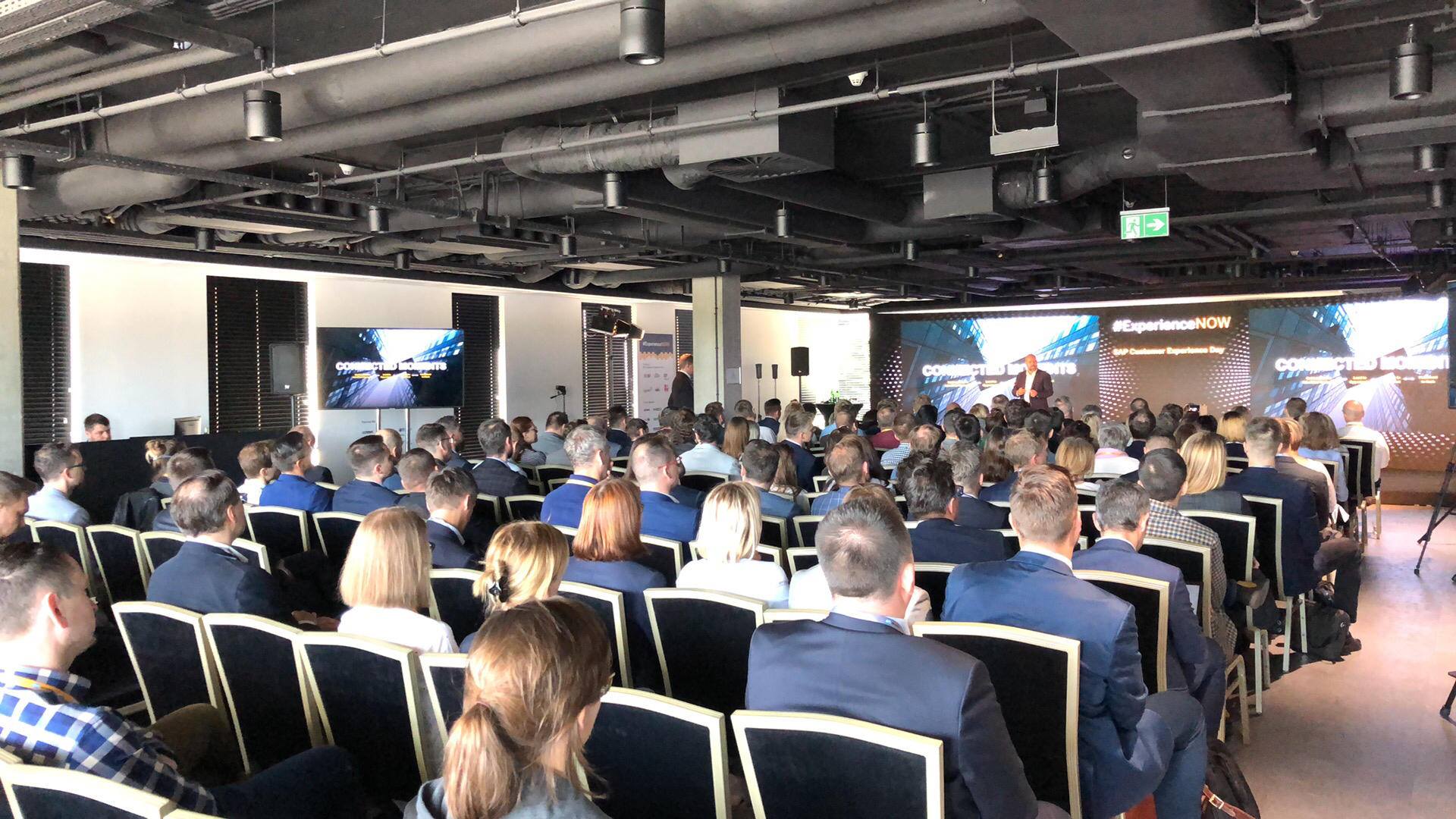 "The implementation project success is determined by the competences of individual people and cooperation of the entire team – ours and our customer"
Piotr Pytlakowski – Comtrust CEO
Business leaders, like Colgate-Palmolive, Coty, Levi Strauss and Verizon Communications take advantages from SAP C/4 Hana. Śnieżka, the largest player on the paints and varnishes market in Poland, is one of SAP CX customers.
Managing B2B and B2C cooperation
Improve customer service quality by better responding to customers' needs thanks to the comprehensive 1trust Service package
Contact Center systems and data analysis
allow you to create more personalized offers and implement unified marketing and sales communications
A significant element of digital transformation
In the case of Śnieżka the implementation of SAP C/4 Hana package was an important part of its digital transformation program.
Scalable, solid, reliable and future-proof
SAP Service Cloud can be easily boost with SAP Sales Cloud – both will develop together with your needs. With time you can add another SAP CX clouds – Commerce, Marketing, Customer Data.
Optimize customer service processes
Simplify communications thanks to central contact management and real-time monitoring. Collecting best practices in one place helps users to respond efficiently to all queries.
Easy to use
1trust Service gives perfect employees experience.
Śnieżka – the largest player on the paints and varnishes market in Poland
Implementation of  SAP C / 4 HANA package in Śnieżka was an important part of the company's digital transformation program – called Change IT and scheduled for several years. Śnieżka says that 2018 was the record-breaking investment year for the company. Expenses for this purpose in Śnieżka were 123% higher than in 2017. Change IT was a part of this plan – the company implemented the first solutions from the SAP C / 4 HANA package to improve the management of B2B and B2C customers and to better respond to their needs. Śnieżka had built its strategy before starting the implementation project. At the beginning of 2018 the company conducted a series of interviews with own business customers thanks to which they got to know their needs for digital sales support or product promotion. 

For these reasons, among others, it was decided to engage a team of several dozen of Śnieżka and SAP experts to implement the first three SAP digital solutions. The implementation included tools for sales and exchange of information with business customers, the cloud platform for customer relationship management together with Contact Center and analytic system for B2B and B2C data in order to create more personalized offers and implementation of comprehensive electronic marketing communications for individual customer segments. "Based on this we want to introduce further activities in the field of digital transformation that will help us operate better on the entire journey of the customer" – says Marek Niziołek, Director of the Digital Transformation Program at FFiL Śnieżka SA.
Source: magazynit.pl
NKM National Utilities Hungary
 "We kindly inform that Comtrust Sp. z o.o. has implemented at NKM Áramszolgáltató Zrt. (NKM National Utilities Hungary) SAP Contact Center system. The system was also integrated with SAP CRM at the levels of automated IVR services and GUIs. The implementation was carried out by Comtrust with due diligence and professionalism."
Fodor Gábor, Head of Central IT Services Management
Contact us:
+48 221 221 992
Comtrust became certified SAP Partner
SAP-qualified partner-packaged solutions

Comtrust's 1trust Service package is SAP qualified partner packaged certified solution.
SAP-qualified partner-packaged solutions offer rapid time to value at low risk and with high predictability – all at an attractive and fixed price point. Built, sold and supported by SAP partners – these integrated solutions combine SAP market-leading software with industry or line-of-business expertise, specialized services, customizations, configurations, or applications.
Best of both worlds. The power of SAP solutions, with qualified partner expertise and services.
Deploy affordably and fast. High level of pre-configuration for faster deployments with predictable outcomes at a fixed price.
Built for growth. Future-proof your company with a packaged solution built on SAP technology that grows with your business.
SAP Partner Center of Expertise

Comtrust's services are awarded with SAP Partner of Expertise Certificate. The SAP Partner of Expertise Certificate is not only a confirmation of the highest competence and quality of the services, but also gives Comtrust the right to provide SAP Enterprise Support.
To become certificated partner, Comtrust had to complete the complex audit procedure. All services, support infrastructure, support-related processes, tools and employees must meet SAP's high standards.
Comtrust's Support Department offers comprehensive SAP maintenance – from application support, administration and management to trainings and users support.